TWO SUCCESSFUL FUNDRAISING OPTIONS—CHOOSE ONE OR BOTH!
Our High-Profit Christmas Wreath Fundraising Programs
We designed our Fundraising Programs to maximize the value of the time and effort you and your members volunteer to raise funds. The simplified process ensures our "Guaranteed to Succeed" fundraiser will be an effective, worthwhile venture for your organization. Choose the Program option that suits you best: Traditional, Online, or both!
Why Choose Mickman Brothers
Traditional Program
With our Traditional Fundraiser, your members take customer orders and personally deliver the products.
THE PROCESS:
Members use provided materials to sell evergreen products and take orders in-person.
Group leader consolidates orders and submits them to Mickman Brothers, who will then ship all handcrafted orders to the organization in bulk.
Members deliver products to their customers and collect payments.
THE BENEFITS:
High profit margins, set by you
Lower prices for your customers
Valuable learning experience by doing a personal "ask"
Personal Fundraising Coach to enhance sales
Online Fundraiser
This easy Fundraising format allows orders to be placed online and shipped directly to your customers.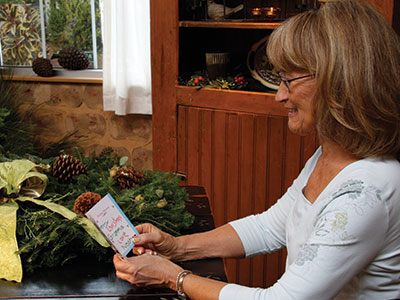 THE PROCESS:
Direct customers to GiftItForward.com to shop for holiday evergreens using your UNIQUE FUNDRAISING CODE.
Holiday evergreen gifts are delivered directly to recipients via FedEx with a personal holiday greeting message.
You earn $8.00 for every holiday evergreen sold using your FUNDRAISING CODE.
THE BENEFITS:
Easy ordering for multiple recipients nationwide
Access to multiple customers via your social networking sites and email
Personal Fundraising Coach to enhance sales
Less effort: we handle ALL product deliveries for you

Take advantage of both options and DOUBLE YOUR SUCCESS!
You get the power of both programs with Mickman Brothers.

Mickman Fundraiser Frequently Asked Questions (FAQs)
Where can I get more information about this fundraiser?
Information Kit—Fill out the short form above on the right side of this page, hit submit, and we'll send you our Information Kit for FREE!
Where do I find my Customer ID and Password?
This is printed at the top of your Welcome Letter, which you will receive in your Information Kit. You may also call your Fundraising Coach at 1 (800) 446-4229. They will be happy to provide this important information to you.
What if I can't find my Customer ID and Password on the Welcome Letter, or I forgot them?
How much profit will I make with the wreath fundraiser? Who determines the selling price and profit margin?
Is there a minimum order?
We do not require a minimum order. However, we are a wholesale supplier, and all products are shipped in full case quantities of same product. (Ex. 25" Cranberry Splash wreath is 5 in a case of that size and type of wreath). These case quantities are listed on your Price List. Your group can pick which items to offer to help sales and fulfill case quantities. Contact our fundraising coaches at 1-800-446-4229 with questions.
Can we do both the Bulk Order Program (Traditional) and the Holiday Gift Product Program (online) together or one without the other?
Yes, you may choose to do both programs or one without the other. The choice is yours. The Online Program at GiftItForward.com is a great program to reach friends/family across 48 states. Just share a link or QR code via email or social media and increase your potential profits.
What is the best way to promote our fundraiser?
Having a Fundraiser Event is an easy way to generate more sales! To promote your event, we recommend you:
Work with your members throughout your Fundraiser to encourage them to achieve their 'Personal Sales Goal'. One easy way to do so is to encourage them to contact their 'Top 10' most likely prospects.
Order Posters to publicize the event and use Door Hangers for the members to distribute in their neighborhood. Both items have a QR Code to direct customers to the Online Program at GiftItForward.com..
Order a sample wreath or spray to display at the event. This will definitely increase your sales!
Work with your Fundraising Coach! Their job is to assist you in achieving your group's Fundraising events.
How does my group determine our selling price and profit margin (i.e. how much should we charge our customers)?
Add your costs (product prices + shipping costs + delivery bag cost + Greenzit Cost), determine your desired profit margin, and then set your selling price.
For example, a group in Iowa is calculating their 25" Classic Wreath total cost:
$19.20 (wreath cost) + $3.64 (shipping) + $0.35 (delivery bag) = $23.19 (total Classic Wreath cost)
Determine your profit margin (we recommend $6-$10 per item)
Your cost is: $23.19 (cost) + $6.81 (profit margin) = $30.00 Selling Price
Do I calculate shipping costs by item or by case?
Shipping costs are by item (not case) and based on geographic zones. To determine your shipping costs, refer to the Shipping Chart on the back of the Price List: find your state to determine your Zone and then use the Item/Zone chart to find your per item shipping cost.
For example, the cost of a 25" Classic Wreath for a group in Iowa is $19.20 (wreath cost) + $3.64 (shipping) = $22.84. When you list the price of this wreath at $30.00, your Profit will be $7.16 each.
Do orders have to be in full case quantities?
All orders must be placed in full case quantities (see Price List for quantities), and items will be shipped in case quantities. No exceptions please.
When is the Final Order due to Mickman Brothers?
Our Traditional Program requires that you submit your order via mail, fax, or online on or before November 1. Submitting your Final Order online at www.holidayfundraiser.com under your "Customer Login" is recommended. If you choose the Late Order Program, your order is due by November 15, and delivery will be the week of December 4-8.
Where can I find the Fundraising Tally Spreadsheet?
The Fundraising Tally Sheet is an EXCELLENT TOOL for keeping track of your sales and profits throughout the Fundraiser. It is also an easy way for you to fill out your Final Order Form when submitting your order at the end of the selling period by November 1st.

The Fundraising Tally Sheet is an Excel spreadsheet which has all the formulas imbedded throughout. All you need to do is add the names of your members, fill in your selling prices, shipping costs and Voila! – your total items sold are listed along with your profits!

The Fundraising Tally Spreadsheet is located at www.HolidayFundraiser.com on the "Customer Login" tab. Ask your Fundraising Coach to walk you through it to see how easy it is to use!

How do I submit my Traditional Program Bulk Order?
All Traditional Program Final Orders need to be in writing to ensure accuracy. One may either submit a hard copy of the Final Order Form via fax or mail; we recommend you submit your Final Order online. To submit the Final Order, log in here, click on the Final Order button, and fill in your Traditional Program order.
Who should the checks be made out to?
Checks from your customers should be made out to your organization.Your organization can submit payment for your group's cost to Mickman Brothers by mailing a check or paying by credit card at pay.mickman.com or calling our fundraising coaches at 1-800-446-4229.
Are the wreaths and sprays decorated when they arrive or is "some assembly" required?
All the Christmas wreaths, door sprays, and the centerpiece are completely decorated and ready to display. There is no need to attach any bows, cones, or other trimmings. The Table Top Christmas Trees do require the customer to add the decorations to the tree, all of which are included as pictured.
How much space will it take to store my order when it arrives?
For your Traditional Program order, sizes of the packages and how much space an 'example size' order will take up is listed on page 10 of your Fundraising Guide – which you will receive when you order your FREE Sales Aids.
How should I store the products?
The Evergreen products will do best in cool, dry places, such as your garage.
What do we do if we have a problem with our shipment, such as shortages or damages?
Shortages: When you receive your order, locate the Packing List which includes the number of boxes for each product you ordered. If you are short boxes, contact your Fundraising Coach immediately so we can contact FedEx and track the missing boxes.

Damaged Products: Keep in mind that the boxes may have been crushed or damaged during shipment – but the evergreens are resilient, and the likelihood of damaged products is remote. Open the boxes and inspect the products. If they are damaged, contact your Fundraising Coach within 5 days of receiving your order. We will reship any damaged products and work directly with the shipping carrier to resolve issues. Please take pictures of damaged products and send them to us as proof for our claims with the carrier.

What type of Sales Incentives does Mickman Brothers offer?
We offer Sales Achievement Patches and Medallions. We recommend you hold an Awards Ceremony at the end of your Fundraiser to recognize your members' hard work!
How do I contact a Customer Service Representative?
Call 1 (800) 446-4229 to talk to any of our Fundraising Coaches. Our business hours are Monday-Friday, 8AM-4:30PM Central Time.
How do I contact Mickman Brothers?
Don't see your question here or want more information? We're here to help. Contact us today to learn more and get started.
OUR TESTIMONIALS SPEAK FOR THEMSELVES.
See what customers say about our Products.
more testimonials
Our troop has been raising money for a large trip. This fundraiser is great because people like to buy something they can use. This was our second year and the girls found they had easy sales from repeat customers then could work to get new customers. We had less girls in the troop selling but still raised the same as last …
Boy Scout Troop 70 is based in Lewisburg, West Virginia, and incorporates international travel as an important part of its activity program. This helps keep the older Scouts active in the Troop and provides them with the opportunity to learn about other countries and cultures, develop self-confidence, and better understand …
Hello,
A merry Christmas to you all too. It was a pleasure to work with your company in our fundraising efforts. I was very pleased with everything from the informational packets to the end. Never has it been so easy!!! Thank you again.
Thanks again for everything!"
Mickman Brothers helped our Scout Pack enjoy a 4 day 3 night camp trip to Cub World this year. I would also like to report that with the help of Mickman Brothers Fundraiser we were able to send 24 boys to camp this summer.

We have never tried to sell anything other than popcorn in the past to help support the pack and wo…