Thank you for your interest in our 'Guaranteed to Succeed' Christmas Wreath Fundraising Programs! We will mail preliminary 2023 Christmas Wreath Fundraising Program details to you promptly, within one business day. After examining the links below, do not hesitate to contact us today to speak with one of our Fundraising Coaches about our products and/or easy to succeed fundraising programs. Email us at
wreaths@mickman.com
or call us at 1-800-446-4229. We look forward to the possibility of working with your and your members on your 2023 Christmas Wreath Fundraising Program. All of us at Mickman Brothers pledge to do all we can to make your fundraiser your most successful ever!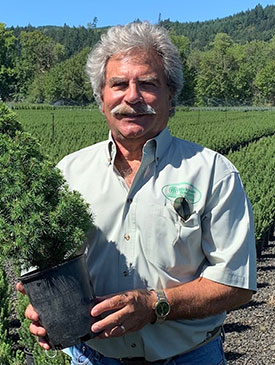 Best Wishes
John S. Mickman - Founder
Mickman Brothers Inc.
Christmas Wreath Fundraising Information Downloads/Videos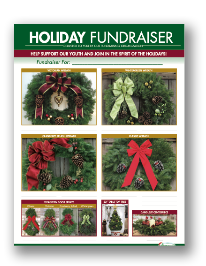 Sample Sales Brochure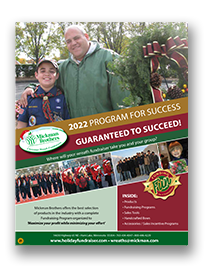 Program for Success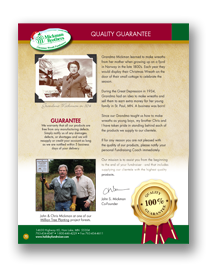 Quality Guarantee

Fundraising Programs

Products

Testimonial
OUR TESTIMONIALS SPEAK FOR THEMSELVES.
See what customers say about our Products.
more testimonials
The George Ranch High School Theatre Booster club participated in the Mickman Brothers wreath fundraiser for the first time last winter. Our theatre group is small but mighty! In its short four year existence our talented kids have been honored with numerous acting awards from the Houston theatre community, the University I…
SUMMER FUN in San Diego and CHRISTMAS WREATHS wouldn't normally be found in the same paragraph, but our experience fundraising with Mickman's Wreaths has made it happen.

This was our FIRST YEAR selling Christmas wreaths for our boy scout troop in Arizona. We wanted to pick a reputable company that would maximize money co…
Last October our Homer High School Mariner Co-Op Hockey team hit the ground running. Our hockey season is short, yet aggressive. We pack as many games as we can for the 4 months we get. Our biggest and best fundraiser has always been the beautiful Mickman wreaths and sprays. Some people will get pretty upset in our communit…
Mickman Brothers helped our Scout Pack enjoy a 4 day 3 night camp trip to Cub World this year. I would also like to report that with the help of Mickman Brothers Fundraiser we were able to send 24 boys to camp this summer.

We have never tried to sell anything other than popcorn in the past to help support the pack and wo…